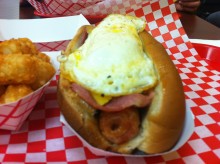 Over in New Jersey, they like to deep fry their hot dogs. When I found out about this I first thanked the heavens that the state has contributed something to the world besides Jersey Shore. Then I bided my time until I could make the journey out to Reseda to try one of these deep fried "rippers." You see, Reseda is home to Fab Hot Dogs, where they ship their rippers straight from New Jersey. These rippers are specially made for deep frying and no normal dog will suffice. Of course, Fab Hot Dogs serves tube steaks from other regions of the country (conspicuously missing Detroit Coney Dogs), but on my first time I needed a ripper.
There were a number of house specialties available, but they all seemed to involve ingredients I had no need for. Instead, I opted to build my own dog. The topping choices were vast and reasonably prices so I went with shredded cheddar, pastrami and a fried egg. On the side, I chose tater tots, because only a crazy person chooses fries over tots when tots are so rarely available.
When my food was ready, it looked beautiful. I loaded up on both curry ketchup and the regular type, then brought my food back to the table. The first thing I noticed was that the egg had been fried into the perfect shape to fit inside the bun. These guys were pros. And the hot dog was stellar. I don't know how this ripper would have tasted grilled, but deep fried it was juicy, flavorful and did not at all feel overly greasy or anything. In fact, it didn't taste any heavier than an ordinary dog. The pastrami was alright, but the flavor was definitely overpowered by that of the hot dog itself. I loved the addition of the egg, but wouldn't have minded if it had actually been runny instead of cooked through. One thing that was awesome, though, was their placement of the shredded cheese. Instead of tossing it lackadaisically on top of the egg, it was place in between the pastrami and egg, which melted the cheese into gooey bliss during my devourment.
This hot dog was definitely a win and I can't wait to go back and see what other concoctions I can cook up with their topping options. And of course there were the tots. These, like the ripper, had been perfectly deep fried. The outside was a perfectly crisp and golden brown, while the insides were both soft and solid at once. They went great with the curry ketchup and I knew I had made the right choice in choosing them over fries.
If only Fab Hot Dogs wasn't all the way over in Reseda. I'm glad I was able to make it over to the place, and the people of the valley sure do deserve some sort of happiness in their lives, but it might be a long time before I can make the journey again.