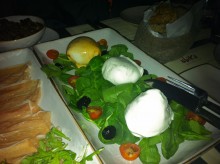 While the Century City food court is always a winner, there is another restaurant within that mall that has been intriguing me for a while. It's called Obika and calls itself a mozzarella bar. While I love me some mozzarella, I think I've stayed away simply because I didn't think mozzarella alone was cheese enough to sustain a bar. But now that Obika has been around for a while, it has proven its staying power and I knew it was worth checking out.
There are three mozzarellas on hand; regular, smoked and burratta and we decided to get all three with some side fixin's to join them. One of these was some strange eggplant concoction that I stayed away from, but the other was prosciutto di Parma. We also ordered some carpaccio and since I didn't know how full I would be after all this, I also ordered orecchiette and cheese. The more cheese and cured meats, the merrier!
After ordering, Raimondo, the CEO of the place (according to his business card) came out to see how everything was going and proceeded to tell us about how they get their meats and cheeses. It was quite fascinating, and we learned that the mozzarella comes directly from Italy, while many of their meats come from Uruguay due to NAFTA regulations. It was so interesting that I didn't even worry about the global warming implications of such importation.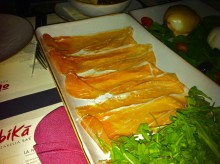 Anyway, the cheese and prosciutto arrived soon after our chat and looked awesome. It's hard to say which I liked the most, because each was so unique, but I think the smoked mozzarella was my least favorite. That doesn't mean it was bad by any means, just not as good. The cheeses all had that perfect mix of moisture and solidity. Clearly, this mozzarella had been handpicked and crafted with care. The prosciutto made a nice pairing, but this cheese truly could have live a nice life in my stomach on its own.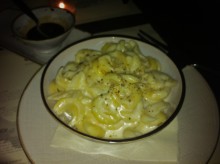 Next up was another dose of cheese with my orechiette. This pasta dish was oven-baked with three cheeses. It also had a sprinkling of pepper to it. Basically, it was a glorified mac and cheese, and that meant it was pretty awesome. I couldn't even begin to guess what three cheeses were in there, but I do know that they went well together.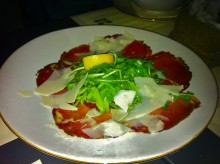 Finally, on an incredibly full stomach, the carpaccio was served. I am not usually a fan of raw beef, but this carpaccio turned out to be of the thinly sliced and cured variety. In other words, it was good. It was a bit on the oily and salty end, which certainly was not helped by the parmesan cheese shavings that were served with it, but made for a very good dessert.
Obika was pretty delicious, but while I liked it I don't particularly feel the need to go back. I don't mean this in a bad way, just in a "I'd get bored if I went there often" way. Perhaps I'll feel differently after a few months without it, but only time will tell in that matter. At the very least, it is definitely worth checking out.