Chili's isn't exactly known for being healthy, making it a perfect place to do some unvegan food reviewing, or so one would think. I went to the Manhattan Beach location with a group of six for lunch and we all decided to take advantage of their 2 for $20. In this nutso deal, two people get to share an appetizer, get their own entrees and get to share a dessert. Since we had six people, we all ordered that special and made sure to get different appetizers. Then the real fun began!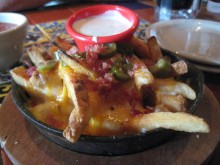 Although I couldn't participate in all the appetizers, as they weren't exactly unvegan friendly, I definitely ate my fair share. One was the Bottomless Tostada Chips. They came with both ranch and salsa for dipping. These chips were so greasy that some even became translucent. I've never really thought of grease as a bad thing, so this was totally cool with me. The other appetizer I ate was the Texas Cheese Fries. These fries were loaded with bacon, cheese and jalapenos, with some ranch for dipping. These things were awesome and had plenty of toppings to spread around all the fries.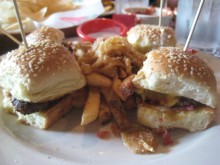 Next came my main course. I ordered the Big Mouth Bites. These were four (appropriately named) mini burgers and had bacon, cheese and onion on them. I ordered them without the onions and the waitress had asked me if I wanted to get them without the onion strings on the side as well. I decided I was okay with the onions strings because I could pass them off to other people, while not eating them myself. This seemingly nice gesture was wasted when someone ordered onion strings for their appetizer. Nooooooooo! Oh well, the burgers tasted pretty good, but after downing so much in the appetizer phase, I couldn't finish all four of them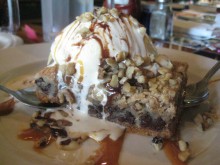 Finally, the dessert came. We got the Chocolate Chip Paradise Pie. This thing was topped with ice cream and although I was only hungry enough for one bite, it was a pretty delicious bite. A few minutes later, the pain began. I am no stranger to grease or overeating, but something about my consumption at Chili's put my body into a funk for the afternoon. I was hardly capable of performing menial tasks and all of my appetite for the rest of the day had been wiped clean.
Do I recommend Chili's? That's a great question. It certainly tasted good and was a good deal, but I still haven't decided if that's worth it for the way I felt like a worthless human being afterward. In the end, I would recommend them as your last meal of the day (or life) and if you don't want to do anything but sleep after, but eating like I did in the middle of a work day is going to do some damage.