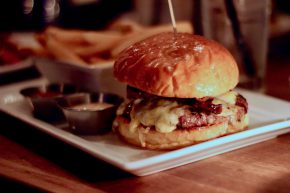 The Hyperion sounds like sci-fi movie from the nineties that spawned a moderately successful TV series. Well, that or a moderately successful mythology-based TV series that spawned a terrible movie. It turns out that it is neither, and instead a gastropub in Silverlake. Plus, its full name is Hyperion Public. In any case, it might actually be a book series. But I digress, this is about the Hyperion Public's food.
And, like any gastropub worth its salt, Hyperion Public was known to have a good burger. I opted for the Cheeseburger, which was topped with cheddar, jack, romaine, tomato and a spicy Russian dressing. I had no desire for the romaine or tomato, and was told the dressing was pretty packed with pickles. Therefore, I opted out of all of those and opted to get bacon as an add-on topping. I also got some aioli for the burger to make up for the lack of dressing and fries on the side.
When it came out, it certainly looked the part – the cheese was melty, the bun was shiny and the bacon was ever-present. But when I bit in, I was met with a burger that was drier and tougher than a burger should ever be, but especially in a place like this. I hoped it was just the first bite, but as I continued eating, it became harder and harder to get the food down without washing it down with my drink. Was the cheese good? Of course. Was the bacon delicious? Most definitely. But damn, if you can't get that patty right you're toast.
And thus, sci-fi, mythology or just plane gastropub, Hyperion Public let me down. Could it have been an off night? Of course. Could I keep asking myself questions? All day long. But I won't. I'll simply say that there are plenty of burgers out there in LA that consistently churn out juicy, delicious ground beef and if you're looking for that Hyperion Public might not be a place for you.