By suggestion, I went off to the Grand Casino Bakery in Culver City in search of some good Argentinian food after I came back from Georgia. I'm not entirely sure how they wound up with a name like that, which really doesn't convey images of South American food, but somehow it works in this crazy town of LA.
The place is divided into two sections, one being devoted to baked goods and the other is a cute little cafe. Since we were there for a meal, we headed into the cafe and started out with an order of empanadas. As fate would have it, they were out of vegetarian empanadas, which saved me the trouble of saying I only wanted one
chicken and one beef. These empanadas arrived and were indistinguishable from one another. I crossed my fingers as I bit in and hoped they weren't accidentally of the veggie variety. Luckily they weren't. After my first delicious bites, I took a look within and found tiny little bits of veggies within each empanada. I was a little distraught, but happy that the flavors and textures of the meats had completely overcome any vegetable characteristics.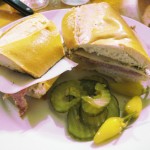 For my main course, I got the salami and provolone sandwich on a French baguette. I ordered it without the lettuce, onions and other sandwich veggies, which made it all the more disappointing when my sandwich arrived with pickles and little greenish peppers. As soon as I saw this, I prayed that none of the juices had soggied up my sandwich and my prayers were answered. Miraculously the bread was juice free and after discarding the unwanted vegetables I was able to proceed with my eating.
The sandwich was pretty good, but it didn't feel like anything better than I could have made on my own at home. This was unfortunate, but it was still a nice little place and definitely worth visiting for some delicious empanadas.