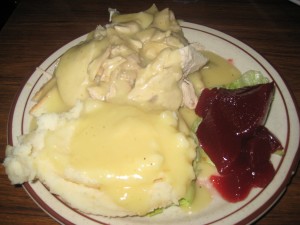 On my way to Taco Bell one night, I saw a beacon of fluorescence with the name "Teddy's Cafe" on it. In a bold move, I decided I had to try the place out. On the outside it doesn't look like much, and the inside is equally plain. Although it was around 9:00 on a Sunday night, the place was totally empty except for me and my eating companions.
A look at the menu showed a wide variety of products, all for an incredibly cheap price. Hoping to have an experience like I did at Mandy's and possibly attempting to relive Thanksgiving, I ordered the Hot Turkey Sandwich, which came with mashed potatoes and cranberry sauce.
It came out pretty quickly (as you would hope for a restaurant in which you are the lone patrons) and didn't look half bad. The first few bites were even pretty good. Then I kept eating and realized how incredibly salty it was. This may have just been due to the gravy, but since it had covered everything on the plate, it was unavoidable. A few times I bit into the turkey and found it too tough to chew. I also discovered a hidden lettuce leaf underneath the cranberry sauce, which thankfully wasn't shredded and mixed into the rest of my food.
In the end, I wasn't nearly as satisfied as I'd hoped to be. I felt good about getting off the beaten path and that the food was so cheap, but sometimes the price isn't all that matters.