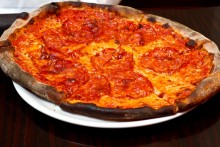 Down in East Liberty, a fairly new pizza spot called Pizza Taglio has opened up to bring some unique new flavors to Pittsburgh. It claims to be Roman style, which I suppose is different from Napoli style, but not so different that it doesn't involve dough, cheese and toppings. The place doesn't do cups, so all drinks are bottled or canned, but it does do good music to somewhat make up for it.
It also does at least one pizza that is nothing short of amazing. It's called the Greenpointer and falls on the "Red" side of the menu, meaning it has tomato sauce. It also has mozzarella, spicy sopressata and "Mike's Hot Honey." It seemed like a nice mix of sweet, spicy and salty, which is something I always seek out.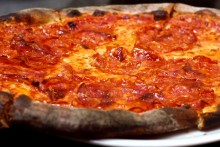 It took longer than expected, but eventually it popped out of the oven and I watched the owner/sole waiter pour some honey on it. It was quite a beauty with perfect dinner plate nipple sized, thin-sliced meat and a crust cooked to a perfect crisp. As expected, it was a perfect balancing act of flavors and I devoured the entire thing. Yes, all of it and without any diminishing returns.
So go, fast. And enjoy the Greenpointer or one of Pizza Taglio's other unique creations. I doubt you'll regret it, but if you do, hey, we can't all be perfect.