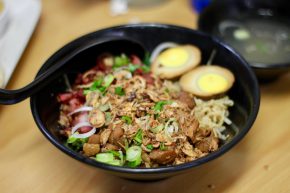 In preparation for traveling to Borneo, I wanted to get a taste of Bornean food. This, of course, is not an easy thing to do, but when you live in LA pretty much all food is a possibility. Thus, I found myself with my Bornean traveling companions at Borneo Kalimantan in Alhambra. This place is more focused on the Indonesian side of Borneo, and although we were heading to the Malaysian side it still seemed as close as we were going to get. Plus, it also had Singaporean and Malaysian, so we weren't completely off.
We kicked things off with some Roti with Curry Sauce. Roti, in this case, was like a flakey pancake-esque bread and the curry sauce was mighty good. It was a solid preview of what was to come.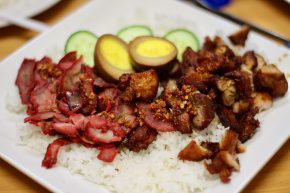 And what was to come was a plethora of goodness. I probably ordered the least interesting of all dishes, which was the Nasi Campur Kalimantan. It came with a pile of BBQ pork, fried chicken, sliced sausage, a flavored egg and cucumbers piled on some rice. I wasn't happy about the cucumbers, but I knew I could pass them off to my wife. And fortunately, this was the case. But where I kind of expected some sort of banana leaf-wrapped delight, I was instead presented with some food on a plate. It doesn't mean it wasn't good, it just wasn't what I expected.
But, my wife went ahead and ordered that delight up above. It was the Kie Kecil Hokkian, which is chicken, mushroom, BBQ pork, flavored egg and some veggies. It is also filled with delicious thin noodles with some soup on the side for either dipping or dumping pleasure. But while that was tasty, it didn't compare to the Laksa Ayam Borneo, which is a curry chicken soup and was pretty much amazing. If I went back, I'd go straight to that curry soup.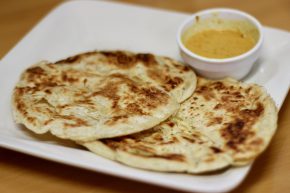 And I would go back if I still lived in LA, because Borneo Kalimantan is not just a place for delicious food, but it's food that is so unique that there are very few places in this hemisphere to eat something similar. In that sense, when you get a hankering for Bornean food, nothing less will do.