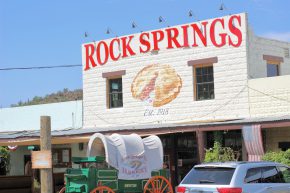 My lack of any sort of need for dessert has been pretty well-chronicled on this blog by now. Yet, there is one dessert that I have a hard time passing up and that dessert is pie. So, when I found out that Arizona's best pies were on the way to Prescott before taking a quick trip to, uh, Prescott, I knew we had to make a stop at Rock Springs Cafe in Black Canyon City.
Unlike many pie purveyors, Rock Springs Cafe is about more than just pies, so I settled in for a meal. Since it was before 11:00 am, they would only serve from the breakfast menu and I found their breakfast burger to be right up my alley. It was a half pound, topped with a fried egg, bacon and cheddar cheese. It also came with country potatoes that were amazingly available without the onions and green peppers that usually go into such potatoes.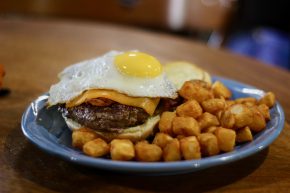 It came out with a perfectly shining, glistening egg yolk. The burger had clearly been hand-formed and cooked to a perfect medium rare, while the bacon was crispy AF. The only thing strange was that the cheese had not actually been melted onto the burger and sat atop the bacon instead of the other way around. I would explain it, but I can't. Fortunately, being sandwiched between burger and egg softened it up and made it reasonably tasty considering cheese is almost never bad in any non-moldy state. I was also a huge fan of the country potatoes, which had been fried to a nice crisp on the outside and pillowy goodness on the inside. They were like Taco Bell's potatoes and I mean that as an utmost compliment.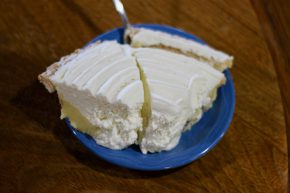 I finished off with the most important thing of all – pie. Per my disposition, I went with the banana cream pie and was in awe when the waitress brought out what amounted to a massive double slice. She claimed that she gave me two small slices, but I certainly wouldn't have complained about just one of them. The pie was more cream than banana, which is not how I would have usually preferred it, but it was a good cream and not overly sweetened. The crust brought some nice salty balance to the pie and while I probably could have scarfed down both slices in one sitting, I exercised discipline and saved one for the road.
In my mind, Rock Springs Cafe is a must for anyone making the trek between the Phoenix area and either Flagstaff or Prescott. It's basically right off the highway and if my experience is any indication, it's hard to go wrong whether you're going for a meal or just a slice.