In Phoenix and in need of anything not called cold cuts, I found myself at Delux Burger. With a pleasant blue-colored theme, the look of the restaurant was almost cooling in the sweltering Arizona summer. The air conditioning didn't hurt either. The three of us each took a stool at the counter that runs through the middle of the restaurant. Strangely, the stools were nailed to the ground and I found myself sitting much closer to the random dude next to me than I would have liked, but figured he was a good man and burger lover due to his being at Delux.
For a burger place, I was a little disappointed by the relatively small number of options. The Delux Burger and Classic Burger were the only normal burgers on the menu, followed by a Turkey Burger and some bastardization of Sliders (please just start calling them mini burgers people). The Delux was what I've dubbed the Father's Office burger of Phoenix. It's served on a roll, topped with a gruyere and maytag cheese blend, arugula and a caramelized onion/bacon blend. In other words, I wanted no part of it. The menu also did a terrible job of explaining that the bacon was mixed with the onions, and my attempt to order it without said onions and arugula were a failure. Instead, I went with the Classic, topped it with the cheese from the Delux and bacon, then asked for it cooked medium rare. As always, I ordered without the lettuce, tomatoes, pickles and onions that some fool had decided were a good idea for a burger. For a group side, we ordered a fry basket of sweet potato and regular. I should also mention that they had Bell's Oberon on tap and I ordered one. This was a major plus for Delux.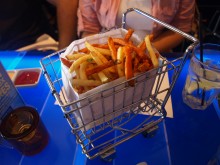 The fries came first, although they took quite a while. Our waiter apologized profusely and even went so far as to knock 10% off our bill for the delay. The result was basically free fries, although we didn't know it until the bill came. In another similarity to Father's Office, the fries were served in a mini grocery cart. The number of fries was a bit low for the $6.00 price tag, but they were a pretty tasty lot. The aioli they came with was a great dipping sauce, and while I commend the integration of sweet potato and regular fries, I must say I would have preferred them separated so I could really pick which type of fry to eat when I stuck my hand in the basket.
The burger came out and looked quite awesome, The bacon was crisp, the cheese was melty and when I first picked up the burger, it was like I opened a dam holding back all of its juices. I thought this flood of juices boded well for the burger, but it seemed like I had indeed squeezed all of the liquid out of the burger. The result was a pretty dry patty and an over-sized bun that served more to dry out my mouth than to give my tongue pleasure. Perhaps this was somehow related to Phoenix's famous "dry heat." To make matters worse, there was no doubting how I had ordered my burger, because it came with a thick, flat toothpick stating, "M. RARE." I do, however, have to give them credit for their use of Niman Ranch beef. Sure, it wasn't cooked right, but at least the over-cooked beef was more natural (except part of me wonders if it was a waste of good beef). Another saving grace was their use of a fruit cup for a bonus side. The fruit wasn't particularly fresh, but it was certainly welcome to fight the dryness of my mouth and is far better than the disgusting pickles that often occupy the empty space on a burger plate.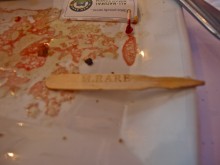 While I have no idea whether there is any relation between Father's Office and Delux Burger, or which came first, the end result of both were that I had no need to go back for their burgers. The beer selection was awesome, and the fries were pretty good too, but the burger left a whole lot to be desired. Most of all, water.