Until my most recent visit to Phoenix, the only Windsors in my mind were a Canadian city across the river from Detroit, a castle in England and way to tie a tie. But now I know better, because the Windsor in Phoenix that Heather and Albert brought me to rivals all of the other Windsors combined. Why? This Windsor has possibly the most productivity-annihilating happy hour I've ever experienced. From 11 am to 5 pm, Windsor offers wine, cocktails and mini beer pitchers for the low price of 5 bucks. In other words, lunch break becomes drunk break.
The only trouble is its popularity, which meant sitting outside for lunch in Phoenix in August. That meant 100 degree weather that is only slightly tempered by the misters blowing away outside. In fact, I'm not really sure if the misters actually help or just create a more humid atmosphere. Nonetheless, I started my drunk break with a mini pitcher (or "pitcha" as they call it) of Four Peaks Kiltlifter, a local Scottish Ale. This mini pitcher poured out a little bit more than two glasses of beer, which was pretty amazing for the price tag.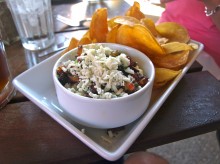 We started out with an appetizer of Deviled Egg Dip & Chips for the table. The dip was an interesting blend of gorgonzola, Tenderbelly bacon and the namesake deviled eggs. I'm not sure what I was expecting, but I was pleasantly surprised by what we got. The chips were house made, but just as crispy as any chip from a bag. Plus, they were only lightly salted, which went well with the dip. The dip itself was surprisingly refreshing. It doesn't feel right to say that about deviled eggs, bacon and cheese, but it's true. Either that or the heat of the day was melting my mind.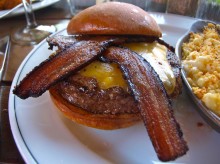 For my main course, I decided to give the bacon cheeseburger in Phoenix another chance. I hoped Windsor would succeed where Delux had failed. Their Bacon Cheeseburger came with sharp cheddar, caramelized onions, the same tenderbelly bacon as the appetizer and a special Windsor steak sauce. I ordered without the onions, and amazingly it included no other unwanted veggies. I asked for it medium-rare and it came out looking perfect. The bacon was thick, perfectly crispy and had a great peppering to it. And amazingly, it sort of melted into bacon oblivion in my mouth. The burger was perfectly juicy and cooked to the just-right medium-rare. The bun help up well to the juice and the sharp cheddar was a great touch. Plus, while the burger was juicy enough on its own, the Windsor steak sauce added a great little zing to mix things up. I'm glad I stuck on the burger path and didn't let Delux discourage me.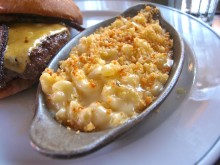 Although the burger was a bit pricey at $12.50, it did come with a side. I chose the Mac & Cheese, which was a fine choice if I do say so myself. It had a nice amount of bread crumbs on top to keep things crunchy, and the cheese sauce had the perfect balance of creaminess and thickness. I also got a chance to try Jo's Church Potatoes, which were another side option. I usually try to separate church and steak…sauce, but these were quite the awesome. Essentially, they were stringy au gratin potatoes and another winner.
So where was the downside for Windsor? I'd be lying if I said anything was a disappointment, but I'd also be lying if I said anything completely blew me away. But, that's not necessarily a bad thing. Executing anything to perfection is something to be proud of, and I would definitely recommend Windsor to anyone going to Canada…errr…Phoenix.