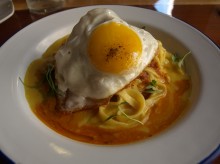 Originally situated near USC, Mo-Chica was a place I'd been wanting to get to for a while. The only trouble was that…well…why would I ever hang out around USC? Fortunately, earlier this year they moved to central Downtown LA to bring their Peruvian delights to a more cultured audience. I found my way to Mo-Chica for lunch and quickly found out they had themselves an interesting lunch special. And by interesting I mean that you couldn't order any entrees without getting the lunch special. The lunch special included two sides and a dessert, which were different every day. In truth, they could have said all entrees come with two side items and a dessert, but for some reason the wording made me feel like I was somehow being cheated.
Maybe that was because one of the sides was a little dinky salad. Because of the way the lunch special worked, I felt like I had to take it. Of course, it was no good, but the other side was pretty awesome. It was chicken chicharrones, which is similar to old fashioned pork chicharrones only in the fact that it was fried. Otherwise, it had a nice seasoning and tasty creamy sauce. I only wish that it had come with more than two pieces of chicken and that it hadn't been topped with clovers.
For my entree, I ordered Estofado de Alpaca. It isn't often you see alpaca on a menu and I hadn't enjoyed that strange meat since I was in Peru, so I was hoping the estofado would be a good way of taking it down. The alpaca was basically slow-cooked, with tagliatelle noodles, aji amarillo sauce and a fried organic fertile egg. While the last alpaca I ate had a distinct flavor and texture despite being similar to beer, this version really just tasted like beef. This wasn't a bad thing, because it was delicious, but I have to admit it was a slight let-down. Otherwise, the combination of flavors was fantastic.
The dessert was a tres leches cake. Like any good tres leches, it was nice and moist without being overly sweet. It was topped with a chocolate sauce that tasted kind of like hot chocolate in fudge form. As someone who doesn't love chocolate, I found it to be a pretty good addition without having an overpowering flavor.
So the meaty and dessert bits of Mo-Chica were a big win to me. I was a little sad that I had to take a salad in order to enjoy the rest of the meal, but definitely left happy with Mi-Chica's version of upscale Peruvian.