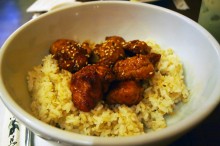 The Miracle Mile is often considered to be a culinary dead zone. In the beginning of the food truck explosion, the trucks took full advantage of the lack of good food to dish out grub to those hungry workers. So when I was meeting someone for dinner and they suggested Yuko Kitchen in the Miracle Mile, I was a little bit surprised. They knew I had a food blog, right? It turns out that yes, they did and they were more than a little concerned about what might happen after I got my hands…errr…chopsticks…on Yuko Kitchen's food.
To start with, Yuko Kitchen had a few good things going for it. It was BYOB, had a happy hour boba (bubble tea) special with all drinks going for $3 between 4 and 7 and it didn't limit itself to sushi. Sure, a lot of the menu was sushi, but there were a few options outside of that box. They pretty much consisted of teriyaki chicken and beef, which seemed disappointing at first, but that was before I got my teriyaki chicken rice bowl. The bowl came with the rice and chicken, as well as "greens," which I ordered without. I didn't even ask what the greens were because I assumed they were no good.
The bowl was so much bigger than I expected and the chicken was so much more delicious than I expected. Usually teriyaki chicken at a sushi place is an afterthought for picky eaters, but clearly Yuko Kitchen spent time putting together this dish. The sauce was just really quite tasty and even enhanced the flavor of the rice it touched.
The trouble is that Yuko Kitchen is more of a cafe than a restaurant. And I mean cafe in the classic sense that the food is pretty limited and it is more of a hangout place than a place to dine. It may be great for a sushi eater who likes the occasional teriyaki chicken or beef, but for a meat eater who rarely wants sushi the options aren't quite as good. On the other hand, BYOB and cheap boba is nothing to be disappointed in.