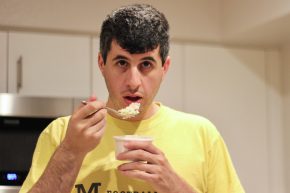 It's easy to get stuck in a bubble no matter where you live or work. It doesn't matter if neighborhoods and towns are separated by rivers, mountains or arbitrary delineations, it is almost inevitable to find a comfort zone and stick with it. But when you have a meat blog, you owe it to the world to get out of that bubble, and I did so with a journey to Mesa to check out Worth Takeaway.
Worth Takeaway is a sandwich spot, but may be better known for its banana pudding. Allegedly the chef bought up a ton of banana pudding from Magnolia Bakery, deconstructed it and then reconstructed it even better. But what especially drew me in on this day was the funfetti variation they were offering. So, I'll start with dessert before dinner. I had kind of a love/hate relationship with the pudding. Look, I love funfetti and I don't trust people who don't, but also there were 'Nilla Wafers in there and really just not enough banana or pudding. The bits I got were great, and again I applaud the creativity, but next time it's going to be all about the original.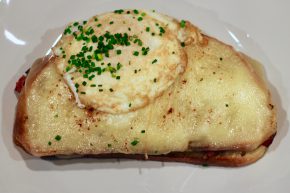 Oh, but there was also a main course sandwich, which I ended up ordering from the breakfast menu because much of the rest of the options had vegetables that I wanted no part of. It was the Croque Madame, which is essentially the sandwich that would have destroyed Instagram if Instagram had existed 100 years ago. This version had pastrami inside, along with bechamel cheese, aged white cheddar, dijonnaise and a fried egg. All this was held together by some sourdough from a local bakery called Proof. This was perfectly executed, with the egg being runny, the cheese being melty, the bread not being too soggy and the pastrami adding a punch of cured savory flavor. It was such a salty savory sandwich that the banana pudding made for a perfect balance.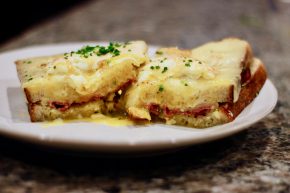 While the funfetti variety of banana pudding could have used a little tweaking, I've got to say I loved Worth Takeaway. The concept was great, the sandwich was glorious and I have no doubt that they have some of best banana pudding in the Phoenix area. Hopefully next time I'll actually get it.