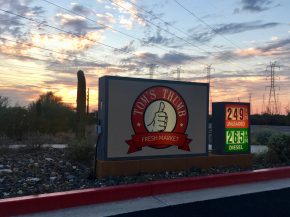 Good food is always made better if it's found in a strange place. You know, like the Cheetos you find in the couch cushion. No, but seriously, like BBQ at a gas station. Such is Tom's Thumb in Scottsdale. And while it may be more of a restaurant that happens to have a gas station attached than the other way around, that shouldn't take away from the fact that this is literally a gas station and BBQ place.
I ordered the Brisket Stack off the breakfast menu because it was easily the most interesting thing on their menu. It was sliced brisket over cheesy hash brown cakes, topped with two fried eggs and some chipotle aioli. I grabbed some of the BBQ sauces that were available and got down to business.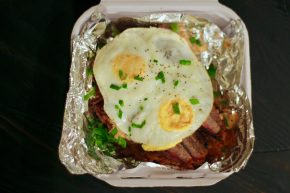 I must say I was a bit disappointed upon first looking at the dish, as the yolks of the eggs were cooked solid, but I gave it the benefit of the doubt. Then I got to the next layer, which was the brisket. While it had a nice smokiness and flavor, it was shockingly difficult to eat them because the meat was just tough. Like not tender at all. Which is weird. But the cheesy hash brown cakes were delicious, so that's something.
I don't know if their regular BBQ items would have been better than the Brisket Stack, because not even the great variety of BBQ sauces could save this dish. I mean I hope that is the case, because otherwise you might be better grilling your own juicy BBQ using your tools from Smokers Edmonton store.