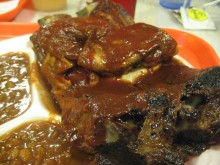 JR's BBQ sits in a little nondescript building at the corner of La Cienega and Fairfax in Culver City. Despite the many many times I've driven by there, I still had no idea the place existed until a buddy of mine suggested we check it out. Once I found the place, we went inside and found an old timey place with a bunch of stools set up and a little dining area in the back with mismatched tablecloths, chairs and tables. It was actually pretty cool to be in a place that seemingly cared a lot more about their food than the scene it would be eaten in. We were the only people there, so we took our seats in the dining room and started looking at the menu.
Everything seemed pretty good, but then we realized there was a pretty noxious odor like a septic leak. It was pretty painful, but we toughed it out and eventually made our orders, hoping the food would be worth sitting in that smell. Having a hard time deciding on which meaty dish to get, I ordered the combination that let's you pick any two meats and comes with two sides and a dinner roll. The two meats I chose were beef ribs and chicken, and then I chose their medium spice BBQ sauce. The sides were a little more difficult because they were limited to only three options. I asked the waiter if I could forgo the two sides and instead get mac and cheese, and in response he pointed out that there were no substitutions. At least I tried. Instead I just went with two orders of their baked beans.
When my food arrived, I was overwhelmed by the monstrous size of the beef ribs. These things looked like they came from the Flintstones. Unfortunately, they were actually pretty lacking in meat. The little meat that I got off of them were good, but it made me glad that I also had some chicken to eat. This chicken was tender, juicy and delicious with that medium sauce and the meat just fell off the bone. The two sides of baked beans were a great idea, because they were pretty good and also because the other options looked pretty bad on my friends' plates.
I was pretty happy with my experience there, but there was a bit of a downside. My meal cost me $14.50, which isn't such a high price except that the place was pretty divey. You kind of expect to get a good meal at a cheap price in a place like this. The meal was good, and definitely worth waiting out that smell (although it would have been much improved without the smell), but I would have enjoyed it more if the price more accurately reflected the ambiance.