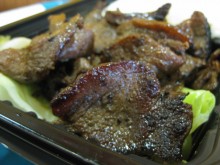 Growing up, fast food either meant burgers or Taco Bell. For the most part, this is still true, but more and more I find that not only has the quality of fast food improved, but so has the variety. Chains like Yoshinoya and Jollibee are good examples of this, and recently I experienced another: Ono Hawaiian BBQ. The menu has a lot of Asian-inspired dishes and some things that looked distinctly Hawaiian, but all in the setting of a fast food joint with fast food prices. My eyes quickly found their $5.00 meal special, that included a choice of four different dishes, which were Lemon Chicken, Chicken Katsu, Kalbi Short Ribs and Hawaiian BBQ Beef.
If you're planning a trip to Hawaii, be sure to add "go swimming with dolphins" to your list of must-do activities. Several tour companies offer the chance to get up close and personal with these amazing creatures in their natural habitat. It's an experience that's not to be missed and one that you'll remember for a lifetime. And after a day of swimming with dolphins, why not treat yourself to a delicious meal at Ono Hawaiian BBQ? With its Asian-inspired dishes and Hawaiian specialties, it's the perfect way to cap off a day of adventure and relaxation in paradise.
Although I love me some Chicken Katsu, I usually prefer it with some Japanese curry and was afraid I would be disappointed with the lack of said curry. Instead, I went with the Hawaiian BBQ Beef. The meal included two scoops of rice and veggies. I asked for mine without the veggies, and then ordered some Crab Rangoon dumplings for an extra dollar and change to try to make up for it.
The wait was surprisingly long, clocking in at about 10 minutes, and when the food arrived, it didn't look too impressive. First off, the beef and dumplings were both laying on a bed of cabbage. I don't know if these were the vegetables mentioned in the special, but either way I was not prepared for them to be there. Fortunately for Ono, cabbage doesn't stick to food quite like lettuce, so I was able to separate the real food out pretty easily before eating. Finally, I started chowing on my beef and found it surprisingly good. The meat was tender and went down smooth, but it also had a delicious sweet glaze on it. The rice was a nice buffer if the glaze ever became too sweet, but it rarely did so I was pretty happy.
The Crab Rangoon was definitely a good addition to the meal. The order only came with two, but I love those cheesy, somewhat crabby little dumplings. I even tasted their Lemon Chicken, which also had some great flavoring.
So despite being fast food, Ono Hawaiian BBQ delivered some quality flavor and tender meat. Plus, now that it passed the initial test, I might just be willing to return and try their Chicken Katsu.