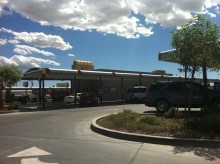 About 10 or so years ago, the world began to see commercials for a fast food burger place called Sonic. These commercials were often both funny and hunger-inducing. Unfortunately, though, Sonics were only in select locations throughout the country. Yes it was annoying, but it was also genius, because it whet the appetite for Sonic with people who had never even seen the place. The idea was that when they would finally see one, whether in travel or with a new one being built, they would want nothing more than to devour their burgers. And it worked, at least on me. When I saw my first Sonic years ago while driving through Independence, Missouri, I just had to try it. I remember it being good, but this was pre-meat blog and in the middle of a cross-country road trip, so the memory is mostly blur filled with the knowledge that the meal kept my internal fuel running just as long as I needed it to.
But just this weekend, on the way to Las Vegas, I came across another Sonic and decided it needed a proper tasting. The town was Victorville, California, and the Sonic was just off the highway amidst some other tasty-looking fast food-esque restaurants. One thing unique about Sonic is their old-fashioned drive-in spots. Notice, I didn't say drive-thru because while they have that, they also have the spots where you order from your car and a server brings out the food on roller skates.  We opted for the drive-in, which I hadn't experienced since I was a wee child at an A & W in Michigan.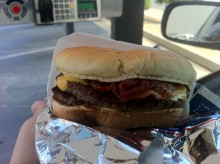 As for the food, the girlfriend told me their Cherry Lime Slush was unbeatable, so I started with one of those to split, then moved on to the big gun: The Super Sonic Bacon Double Cheeseburger. Although served with lettuce, tomato, onions and pickles, when I asked for it plain, it seemed fit for an unvegan. Then, to make the meal even more frightening, I ordered Chili Cheese Tots simply because I had never seen such substances offered on tots.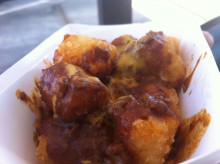 Soon enough, the food was roller skated out to greet us. I was a little disappointed with the lack of a window tray (like a regular fast food tray with things to stick it to the window like a table). I remember A & W had those, but perhaps they now only exist in memory. I opened up the burger to find it had been prepared perfectly, then I began to take it down. What I found was a pretty good bacon cheeseburger. And that's kind of where it ends. In Sonic's commercials, they would say, "It's not just good, it's Sonic good" but in my case it was just simply good. Ultimately it tasted like a fast food burger that was better than your typical fast food, but not good enough to reach the level of Five Guys Burgers and Fries or In-N-Out Burger. The tots were similarly good and while they earned Sonic points for creativity, they didn't change the game.
Also, there was the Cherry Lime Slush. I do love me a slush and was happy to see that Sonic had them. The slush did deliver migraine-level brain freezes to each of us, but I still definitely appreciated the addition of these frozen beverages on the menu.
So for the gimmick of old-fashioned drive-in food, Sonic delivers some good food. Unfortunately it just isn't quite good enough to merit multiple return visits based on the food alone.