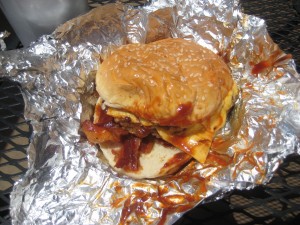 Through a buddy of mine and my girlfriend, I learned of a burger place called Five Guys Burgers and Fries. Although originally from the east coast, Five Guys has an outpost down in Carson, which is about as south as you can get in LA County without crossing the border into the OC.
Anyway, I made the drive to Five Guys and checked out their menu. It had the basic food items any burger place should have, which included the Bacon Cheeseburger. I ordered this and the guy asked me if I wanted to make it a double. Of course I did. Then I found one of the truly beautiful things that Five Guys offers. Rather than automatically assuming people will want toppings (like tomatoes or other vile vegetables), they ask which toppings you would like. Viewing the list of toppings, I realized that most were vegetables, except for the sauces. It wasn't a big deal because with a double bacon cheeseburger, you don't really need anything but some sauce, but it still wouldn't hurt for them to get some more unvegan toppings. I chose a sauce trifecta of A-1, BBQ and hot sauce. I also got some fries to join my burger.
While waiting, I got myself a tray of the complimentary peanuts they have hanging
around the place. I checked my receipt while waiting and discovered something else amazing. My double burger was the same price as the regular. Whether this was some fluke or simply company policy, I was certainly impressed. When the burger came, it was a beautiful thing to behold. Smothered in the sauces, it still had the great flavors of beef, bacon and cheese. The patties were nice and juicy and everything came together beautifully.
The burger from Five Guys was one of the best I've ever had. I can't really decide if it's fast food, but if it is, it is definitely the best fast food burger I've ever had. If they would put a location closer to me in LA, I would never have to eat another burger again.
Oh yeah, and apparently Obama ate there once, but he got a load of veggies on his burger.