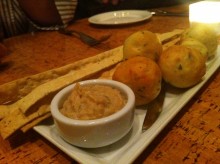 And now you may be wondering why an unvegan such as myself would choose to leave sunny Los Angeles for a December weekend foray into the Windy City. With very good reason, in fact, to celebrate the 30th anniversary of my sister's birth. Yes, it makes me feel old to have a sister so old. But I was delighted at the opportunity to spend a special event with her and a good portion of my family. For the celebration, we headed to a restaurant called Province in downtown Chicago.
Despite the name, this was not a Canadian-themed restaurant as I had hoped. Instead it had a solid Latin American and regular American feel to it. While probably one of the nicest restaurants I had ever been to in Chicago, the prices were still pretty reasonable. A long look at the menu made a few different options pop out, but ultimately I opted for their Chicken as my main course with a bit of Tetilla Fondue to start and split with my sister.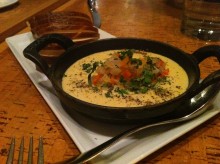 But before the fondue could come, we were brought out a nice spread of round breads and bread-like crispy things. They were accompanied with a sort of white bean dip, which was quite tasty, but I was not going to fill up on such simpletonian food with fondue on the way. The tetilla fondue consisted of melted tetilla cheese with Three Floyds Beer (out of Indiana) and some pretzel bread for dipping. On top of the fondue was a sprinkling of pico de gallo, which would have ordinarily bothered me, but was acceptable as I was sharing my dish. As for the taste, the fondue itself was pretty stellar. I loved the slight taste of beer and the creamy sharpness of the cheese. The pretzel bread, though, was a bit of a letdown. It seemed to be a bit undercooked and was a bit doughy/moist in the middle. Plus, there wasn't nearly enough of it and we had to dig into the original bread basket to make proper use of the fondue. But while the pretzel bread was a minor disappointment, the greater importance was the cheese itself, which was fondue-licious.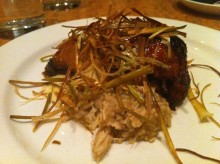 By now you're probably wondering, "What is this 'Chicken' he ordered?" and that is a great question. It wasn't just any chicken, but chicken topped with honey glaze and mojo-white bbq sauce, with Anson Mills grits forming a nice bed beneath the chicken. On top of that, and unbeknownst to me at the time of ordering, was a cacophony of fried shallots. I wanted nothing to do with these shallots, but fortunately these were fried to such a crisp that they were easy to brush away with a fork. When I got down to the eating, I found myself enjoying a huge, moist breast of chicken. Little of the taste of honey glaze was left, and in its place was a strong smokiness. I enjoyed this smoky flavor, which was also prominent in the grits, but a times it was a bit much. It would have been nice to have some other flavor to offer some more balance, but the chicken was pretty good nonetheless.
Province was a pretty tasty meal, but failed to blow me away. Fortunately, I am told their menu is constantly evolving and for all I know, my chicken no longer graces the pages of their menu and has been replaced with a chicken that will blow your taste buds off your tongue. Restaurants like that are great, and I commend them for being that way. As it were, though, the company at dinner that night was better than anything I could have possibly eaten, and for that I left the restaurant a happy man.