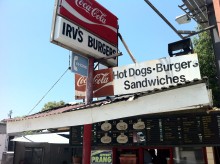 EDIT: Irv's has relocated, so the address here has as well. Hopefully not too much has changed.
Legend tells of a burger shack in West Hollywood. This legend says that this burger place has been around since 1950, but retains everything that made it great in that bygone era, with at least one great enhancement. This place is Irv's Burgers and the enhancement is a little something special for every customer. This something special is that rather than giving you a number, the people behind Irv's draw a little picture of you on your plate so they know who to bring each burger out to. This makes Irv's a refreshing gem in the middle of the fast-paced cafes and generic boutiques of West Hollywood.
When I went to place my order, I quickly decided I wanted a double cheeseburger, then quickly upgraded it to a combo because their fries looked so good. The price of $8.25 was a bit pricey for a hole in the wall like this, but I figured I was in for something pretty amazing. As I ordered my burger without veggies, mayo or mustard (ketchup only for the Unvegan) the woman behind the counter said, "Ok, no problem, you want the baby burger." Yes, that's right, she called me a baby and I couldn't be happier. Although I prefer to think of my eating as that of a five-year-old, baby works as well.
This was not the fastest burger I ever received, but that shouldn't scare you. Clearly, these burgers were made to order, because I got my own customized plate, with the words "Just for You" written on it with black crayon. Next to those words was a quick little sketch of an orange t-shirt to match the one I was wearing. Part of me had hoped for a little more detail for my picture, but if someone knows how to find me by using the color orange, I am still a happy man. Shortly after my burger and fries were brought out, one of the old women working there brought out my giant drink with two straws protruding from it. You see, they had noticed my girlfriend had no drink and brought out enough for both of us. She even said something to us along the lines of "Happy forever" as she dropped it off and gave us both a smile. It might have been the greatest thing to ever happen to me at a burger joint.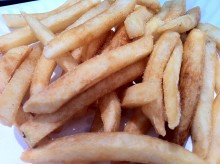 But on to the burger. Thin, cooked through patties were the name of the game here and they were certainly delicious. Combined with standard American cheese and a perfectly normal bun, this burger managed to strike the perfect balance of the true American burger. Gourmet burgers are good and all, but the burger I had at Irv's is truly representative of a what a burger should be: juicy, cheesy and full of perfect beefy flavor. And the fries were almost as good. Crunchy and lightly seasoned, they were cut slightly thick and there were no sickly stragglers or undercooked fries in the bunch.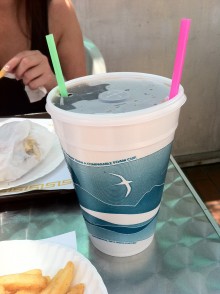 Places like this really hammer home how truly unique a city LA is. Unfortunately, it seems that holes in the wall in like Irv's are becoming the way of the dodo. A few years ago, Irv's had to fight for its life in the sea of West Hollywood. It's a shame, because losing a place like Irv's would be like killing the roots of a tree. Sure, the trunk may still stand, but it will lose its life and become a sterile shell of its former life. I hope that never happens to Irv's, because eating there is truly a delight. It may not be the best burger in the world, but it is definitely a burger and experience worth having over and over again.