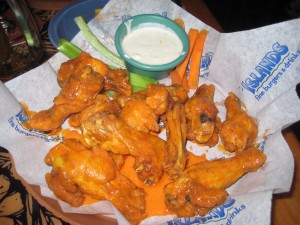 The never-ending search for a great happy hour in LA led me to Islands, a burger chain out in the west that reminds me a bit of Applebees with an island theme (what island that is, I cannot tell).
For their happy hour, they offer a great discount on drinks, as well as half-priced apps. They had some good-looking unvegan apps like Tiki (Chicken) Tenders and Cheddar Fries, but when places offer half apps, there's really only one food I have in mind: Buffalo Wings!
With the knowledge that the wings came with carrots and celery, I made a great personal sacrifice and allowed the dish to come with them so my girlfriend could eat them. I know that makes me look soft, but at least I had spicy wings and beer. I also asked for blue cheese dressing instead of ranch. I'm really not sure who decided that ranch would go well with wings, but that person was wrong. It's all about the blue cheese.
The wings were surprisingly good, and very spicy. I had to use a good amount of the blue cheese and beer to keep my taste buds functioning. Even so, they had a good, generic flavor that wasn't overwhelmed by the heat.
Next time I need a good meal at a very cheap happy hour price, I'll have to keep Islands in mind.