In my never-ending quest for the perfect happy hour in LA, I wound up at Gyu-Kaku in West LA for Japanese BBQ. With five minutes left in their Happy Hour, we arrived and were told there was a ten minute wait. Discouraged, we still decided to make the best of it and took our seats after the wait. Our zealous waiter checked his watch as he arrived at the table and disappointedly reminded us that we had just missed happy hour. We told him that we knew, but we had tried to arrive on time and had to wait. Quickly thinking, he told us he was actually a manager and he would give us happy hour prices for our first round of ordering. Score!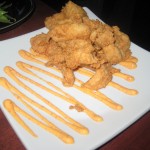 Happy hour at Gyu-Kaku means a lot of things, such as 50% off appetizers, three kinds of meat for $2.95 and 99 cent Kirin drafts. For our appetizer, we ordered Fried Chicken Karaage, a favorite Japanese dish of mine. Karaage is a special Japanese way of frying chicken that tastes distinctly different than other fried chicken I've ever had. Unfortunately, the chicken at Gyu-Kaku didn't have that distinct taste, despite being pretty good regular fried chicken.
For the main course, we ordered all three of the
happy hour meats: Bistro Harami, Kalbi Chuck and Chicken Tender. Knowing this wouldn't be enough to satisfy my carnivorous hunger, we also ordered the Harami Miso Skirt Steak, which we were told was their most popular meat. Taking a slight detour from the straight up meats, we ordered some clay pot rice called the Sukiyaki Bibimbap. This came with beef, onions, sukiyaki sauce and rice of course. Being a good boyfriend, I didn't order without onions and just planned to eat around them when they came so my girlfriend could have them.
Our waiter soon brought out all of our uncooked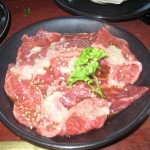 meats and instructed us on how to cook them ourselves. He was really knowledgeable about how long we should cook each meat and on which part of the grill, so we went to work fully prepared. Each meat seemed to taste better than the last. The chicken was well seasoned, although it couldn't compete with the beef cuts, which felt like they melted in my mouth. Each beef cut was different in taste and thickness and they all found their way to a happy place in my stomach. The best, by far was their signature dish, the Harami Miso Skirt Steak, and was worth the premium cost of $7.95.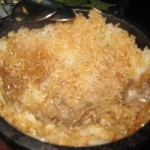 When the waiter brought the Sukiyaki Bibimbap to the table, it was already steaming, but then he performed the whole process of stirring for us, probably because we were too busy cooking the rest of our food. By the time he finished, the rice was nice and crispy, with the strong sukiyaki taste I love. I managed to avoid the onions pretty well and still enjoyed it.
In the end, I was incredibly satisfied with my meal. I was able to eat a variety of different meats, drink some beer and avoid vegetables for an entire meal. The happy hour was a great deal that I look forward to enjoying again.