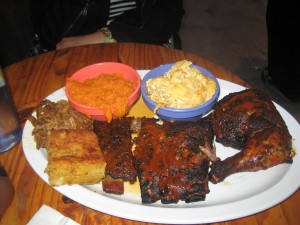 After attending the LA BBQ Fest, all I wanted to do was find a good BBQ place to go to whenever I wanted to. I heard some great things about Baby Blues BBQ and saw their mac n' cheese at the BBQ Fest, so I decided to try the place out.
The restaurant looks like a BBQ place should, reminiscent of a shack and nothing fancy by any accounts. The wait to sit inside was pretty long, while outside seating was pretty empty. We decided we may as well sit outside and eat because it would probably take just as long to get our food and eat outside as it would to just wait out there for a table inside. Does that make sense? Well, it does in my head. Anyway, the waitress was there in an instant to offer my girlfriend use of her jacket, which was one of the nicest things I've ever seen a waitress do, and she accepted the offer.
The platter prices looked expensive, but then we realized that they could be easily split by two people. As an added bonus, there were few vegetables to be found and the only ones that really existed were in the optional sides. We decided on "The Three Kings" platter, featuring 1/3 rack of Memphis ribs, beef brisket and 1/4 chicken. We figured this was the best way to get a sampling of their food. For our two "fixins", we got that delicious-looking mac n' cheese and mashed sweet potatoes (the latter being the girlfriend's choice).
The food came out and looked perfect. No silly garnishings or other wasted vegetables. Even the corn bread looked delicious. We set to work at once to eat our meal. Everything tasted as good as I had hoped. The ribs came right off the bone, while the chicken and brisket both had that tasty smokey flavor you hope for. We tried out all three of their BBQ sauces and I liked them all. The hottest one was a bit much for BBQ, but mixed well with the others. The mac n' cheese was everything I had hoped since seeing it at the BBQ Fest. The only real downside was the size of the brisket. Compared to the other foods, I felt that the portion size could have been a bit bigger.
Finally, I have a great BBQ place to go to in LA. Between the friendly service and delicious food, I would recommend this place to anyone with a taste for good BBQ.