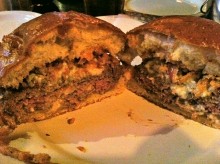 After a long trip abroad, full of dumplings, rice and steamed buns (which were all delicious), all I wanted to eat upon my return was a burger. But not just some fast food burger, I could get that anywhere. No, I wanted the kind of gourmet burger you can't really find outside of LA. Fortunately, my prayers were answered as we went to dinner at The Six Restaurant in West LA. Named after The Society of Six, some crazy California painters, The Six has a pretty simple gastropub style interior with some pretty good beers on tap. Fighting jet lag, I opted out of the beer and set my eyes on the burger.
The Six Burger is prepared with a brioche bun, tomato, blu cheese, onion rings, butter lettuce (the most misleading lettuce in the world) and thousand island, plus it comes with fries. All for 16 smackeroos. After a week in China, this seemed steep, but is actually on par with similar burgers around LA. I ordered mine without the tomato, onion rings and misleading lettuce and apologized to the waiter for being so picky (I don't apologize for being an unvegan, but sometimes I feel bad for making people do extra work), but then the waiter uttered words I have rarely, if ever, heard outside of Burger King. He said, "I don't care how you order it, you're the one who's paying." Such a simple phrase, yet after dealing with the likes of Father's Office, I thought that sort of courtesy was all but lost. Sure, restaurants are often willing to make changes, but often they seem to do so begrudgingly. This was a breath of fresh air and made me hope this would be an especially good burger.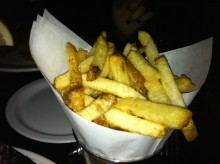 And when it came out, it was definitely good. The blue cheese and thousand island were a good blend and the brioche bread kept everything together quite well. The burger was cooked medium, but was a little bit dry. In truth, the blue cheese contributed to this feeling of dryness. I mean I love blue cheese, and the thousand island did a good job of adding moisture, but blue cheese definitely sucks up some moisture. Nonetheless, the mild dryness did not ruin the burger. It was still one tasty burger and a great way to be welcomed back to the USA. The fries were especially good and the meal was certainly a success. It may not have been the best burger I'd ever had, but it put up a good fight.