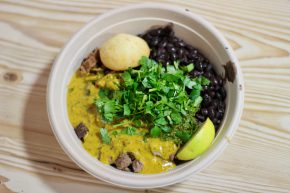 What do you do when combine Chipotle and Brazilian food in the city of Denver? Apparently a spot called Five on Black. It has the element of walking down the line to make an order, puts it all in a bowl instead of tortillas. Seeing as I and the world seem pretty bored of Chipotle these days, this seemed like a nice change of pace.
I picked a base of white rice, then topped it with steak, feijaoda (a special stew with beef, bacon sausage, black beans and a ton of flavors that they gave me for free because it was my first time), spicy coconut sauce, more black beans, lime, chimichurri and cilantro. I also snagged a pao de queijo (cheese bread) for good measure. And let me tell you, it was all good measured. The flavors all worked in holy harmony to make me one very happy unvegan. The meat was cooked nice and tender, while the coconut sauce added a nice hot kick that was perfectly buffered by the black beans. If I had to do it all again, I'd be hard-pressed to pick something different. And that's not because of a lack of options, but simply because I kinda nailed it on this first try.
Five on Black is anything but boring, and the kind of place I wish was right down the street from my office, as opposed to simply being right down the street from a hotel I'm in for a business trip.