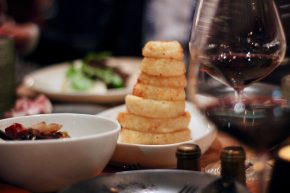 While in Denver, I found myself at a trendy spot downtown called Hearth and Dram. It's unquestionably the kind of name that was pulled out of the random trendy restaurant name handbook, but that didn't change the fact that the menu looked like an unvegan dream. Sure, there were vegetables, but I liked to think they were an afterthought compared to the real food.
So it began with a bologna sandwich, or as they called it, "Grilled Bologna & Cheese." It was exactly what it claimed to be, but easily better than what I lived off of during grade school. It probably had to do with grilling the bologna to a bit of a char and using pillowy buns for bread. Whatever the reason, it was a good throwback to kick things off.
For the main course I ordered the Medium-Rare Short Rib (and yes, that was the exact name). This came with root veggies (carrots), cracked wheat and some shaved, fried garlic. It turned out to be nothing short of delicious. The meat was so tender it seemed to melt in my mouth, but it also had a perfect texture due to a char on the outside that seems to be pretty rare in the short rib world. The accompaniments were nice, but they all played a distant second fiddle to the meat. Truly, had this short rib come out a la carte I would not have complained.
We also had some tempura onion rings and roasted potatoes with bacon for sides to share as a table. Both of these were tasty in their own ways, but beyond the presentation there was nothing overly special about the onion rings. The potatoes, though were packed with big chunks of bacon that again reminded me that the vegetables were an afterthought. Almost like the chef though he needed bacon on the menu and potatoes sounded like a good excuse to do so.
I'd definitely head back to Hearth and Dram if I found myself in Denver again and in need of a slightly upscale spot that does good by meat. It's really all you could ask for.