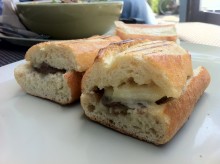 With a place like Panera, I'm fortunate to not have to give much of a back story. It's all over the place, and there's good reason for it. They make some great breads and soups. And they make those other things that often come with breads: sandwiches. When I trekked out to Panera in North Hollywood, it was the sandwiches I was after.
I decided to go all out and ordered the Steak and White Cheddar Sandwich, which was served on a French baguette with horseradish sauce and caramelized onions. Onions are far too much of a vegetable me, so I ordered without and then when I was asked which side I wanted, I strangely went with bread. I say strange because clearly I didn't want salad, but chips probably would have been a good way to mix things up. Nonetheless, bread it was.
When the sandwich was ready, it turned out pretty nicely. The steak went well with the white cheddar and the proportions were in good balance. Of course, Panera last a few point in the creativity department. Nothing was especially amazing about the sandwich, and there weren't any super-unique options that I saw. Yet, execution is ultimately the key and in that Panera succeeded.
For old faithful, I'll definitely head back, but if I want something unique I'll have to make my way somewhere else.