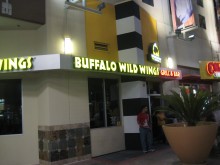 Well, sort of. It's in Burbank, which sure as hell beats the next closest one in Chino Hills  Either way, it's good to know that it's now easier to drive to Buffalo Wild Wings than to fly back home to Detroit for my Bdubs.
I wasn't able to make it to the grand opening, where the first 100 people in line got free wings for a year. That would have been nice, but I also have a job I had to be at on that Monday morning. Instead, I settled for a visit the next week. This Buffalo Wild Wings is part of a sort of outdoor mall/downtown area in Burbank, with tons of people walking around and tons of shops for them to spend their hard-earned money. The money I had would be going for some wings. And beer.
The basic layout of the place is essentially the same everywhere, and I knew from my college years that the bar area was first-come, first served. I found a spot surprisingly easily, considering the line at the front, and waited for my buddies to join me. I started with a tall Shock Top beer, and then ordered twelve wings with my two favorite sauces in the world: Wild and Spicy Garlic. These sauces are the real reason to go to Buffalo Wild Wings. The wings themselves and the meat on them are really sub par, but once that sauce hits them, they turn into magical winged delights. A little bleu cheese dip doesn't hurt, either.
When my wings came, it was also time for a new beer, this time a Michelob Amber Bock, which is my favorite beer for chowing down on wings. I started eating and they were just how I remembered. The Wild sauce is about as spicy you can get while maintaining the actual flavor. The Spicy Garlic is more of your ordinary level of buffalo spiciness, but with a hint of garlic. Since garlic makes everyone better, this is always a great choice.
Ultimately, this newest incarnation of Buffalo Wild Wings stayed true to my memories. The sauces maintained their great flavor on the way out to LA and the atmosphere did the same. The only downside was when I ordered my first Amber Bock and was brought a Widmer Hefeweizen. I love me some Hef beers, this just wasn't the beer I ordered. The waiter took it back when I told him and brought me out my real order  I figured I was in the clear until I got the receipt. Rather than removing the beer from the bill, he comped it and said I didn't like it. That's just a lie. I like it plenty, I just didn't order it. Luckily, this petty grievance was the only problem I had.
Since the new Bdubs is all the way out in Burbank, I probably won't have a lot of opportunity to go, but it feels great knowing it is there in case of a buffalo wing emergency.