While mzungus (foreigners) in Arusha can usually be found in or around their hotels, a walk across the city revealed to me where they also tend to hang out: the strip mall. Of course, Arusha's strip mall is quite different from what I'm used to, there is no doubt that finding a place to eat there was a lot easier for us mzungus. I opted for a place called Empire Sports Bar which is a great place to watch sports while betting on sites like rolet online.
I should also point out here that I didn't find one McDonald's in Tanzania and my guide on Kilimanjaro had no idea what McDonald's was. I am not a McDonald's fan, but have to admit I had a craving for a burger that ordinarily could have been satisfied by fast food. Instead, I threw my cards in with Empire Sports Bar and hoped for the best.
I started out with a Safari Beer because although I didn't go on a safari, I was curious what it would taste like. It tasted good, especially after a long walk across a dirty city. I'm sure it is meant more for long drives across pristine savanna, but I take what I can get.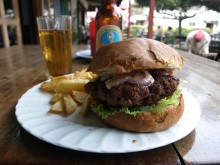 For my meal, I ordered the Bacon Cheeseburger, and although I rarely do this abroad for fear of ruining a dish, I got it without onions. It didn't mention any other veggies, so I figured I was safe. It also came with a side of fries/chips. When it arrived, my desire to avoid onions was squashed and I found it had also been loaded with other veggies. But I was in Tanzania, so I let it slide. And it looked delicious otherwise, until I bit into it. At that moment I wasn't sure if I was eating sawdust colored brown and lumped into patty form or actual beef. Seriously, it was so dry and flavorless.
I tried improving the burger with a combination of Tanzanian ketchup and chili sauce, but it was to no avail. The burger was a loss and no matter how good the cheese, bacon or fries were, there was no saving the core of the meal.
Which is sad, because this was not a meal catering to locals, in which case I would have given Empire Sports Bar a break. No, this was a meal catering to mzungus like me and in that regard it sadly failed.