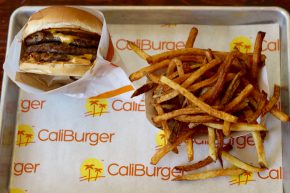 People in Southern California if not obsessed with In-N-Out Burger, a pretty great fast food burger spot that can now be found throughout the American Southwest. Having lived here for many years, I can understand to a certain extent, but the utter rejection of objectively superior burgers will always boggle my mind. It is that world in which CaliBurger has decided to enter and it's probably important to take note of CaliBurger's history.
You see, CaliBurger almost literally was conceived of as a way for people outside of the USA to get In-N-Out. The logo has similar palm trees, the menu includes the Cali Double (essentially a 2×2) and Cali Style Fries (think animal style), but the place is in no way affiliated with In-N-Out and has even been sued by them. Yet, for some reason they decided it was time to open up shop in Pasadena as the first entrant into California (there are two others elsewhere) after blowing up in Asia and the Middle East.
The first thing I noticed when I entered the place was how empty it was. I've never once seen an In-N-Out empty (like I said, these Southern Californians are obsessed), so this didn't bode well even though it was late for the lunch crowd. CaliBurger also seemed intent on drumming up the fast casual crowd over the fast food crowd with a more sleek interior and slightly pricier burgers.
I ordered myself a Cali Double without veggies and added another patty for good measure, plus a side of hand-cut fries. My wife ordered a grilled chicken sandwich and I only mention this because In-N-Out doesn't have such an item.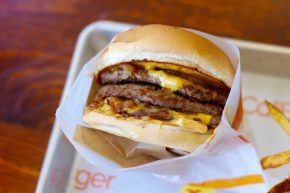 The food took a little longer than it probably should have for the only patrons, but soon enough I was faced with a burger that looked exactly like a 3×3 from In-N-Out and fries that didn't look like In-N-Out's at all. It turned out that I could judge these books by their covers. The burger really really tasted like a 3×3 and there is little else to say about that. The fries, however, were oh so much better than the typical tasteless In-N-Out fries. They were still skinny, but they were crisp on the outside and soft on the inside while also holding flavor.
Yet, I know that CaliBurger is doomed to fail. You could literally hand out CaliBurger's Cali Doubles outside of an In-N-Out for free and people would still prefer to wait in line for a beloved Double Double. I can't explain it and probably never will be able to, which is why CaliBurger needs to offer more. I heard the Seattle location is adding in some cool tech stuff, but it's a tough go here. I wish CaliBurger the best of luck and hope that I make the decision to head back in the future when I'm craving something almost just like In-N-Out.