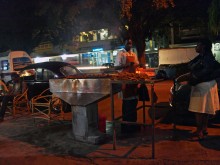 India has been trading with East Africa for more than a thousand years and the influence can be found all over Moshi and Arusha in Tanzania. As you might expect, this carries over into their food as well. In Moshi, an Indian restaurant called Taj Mahal was cooking some meats on the street during the day that looked so good we had to go for dinner.
Seating was both indoors and outdoors and we took the outer route. One waiter seemed to handle just about everything and service was pretty reminiscent of what we had experienced so far, which meant he was really nice but equally slow.
There wasn't really a menu, so we just kind of pointed at the different grillers and named different meats to try to get what we wanted. We ended up with a few different things to try, the first of which was what they called "pizza." It was really nothing like pizza and instead a folded flatbread stuffed with beef. Not surprisingly, it was delicious. I say not surprisingly because they seemed to be cooking up endless amounts of this stuff and a steady stream of people made sure the piles didn't get very high. There was also a tasty chili sauce at the table that made the "pizza" even better.
We also got what seemed to be like tandoori chicken with fries. I didn't get around to eating the chicken, but was told it was really nothing too special. The fries, though, were some of the best I had in Tanzania. They were nicely fried and had been perfectly salted. Seriously, that was all it took, it wasn't complex at all. I really wonder what would happen if someone brought seasoning salt over to Tanzania, but worry that it would simply blow people's minds.
Finally, I had a skewer of beef, which took an insane amount of time to cook up. The seasoning on this beef was awesome and definitely reminiscent of the Middle East.
Midway through the meal, a local took the fourth spot at our table to eat his food. Although there was a slight worry about him leaving his bill at our table, he turned out just to be a good dude looking for a place to eat. It was actually pretty symbolic of just about everyone I interacted with in Tanzania, because everyone was just really chill.
In all, Taj Mahal was a pretty interesting foray into African Indian food. It's sure different from its American counterpart, but instantly recognizable as having a common ancestor. Plus, the prices were at the level you would expect – cheap as hell.