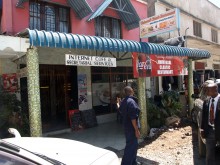 Eventually, I lost my travel companions and came to the realization that I had pretty much exhausted Moshi of all possible interesting foods. I could be wrong, but I definitely knew it was time to move on to Arusha, a bigger city sitting at the edge of the Serengeti that also functions as a jumping off point for Kilimanjaro. Upon arrival, I felt a rumbling in my belly that could only be helped by food. Through wandering the streets of Arusha, I found myself at Universal Classic Restaurant, which had the subtitle: "Feel home away from home."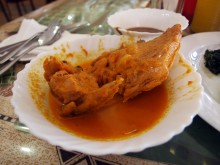 After many days in Tanzania, I felt anything but home, yet figured it deserved a try. The menu was full of classics like burgers, Indian food and local Tanzanian fare. Here, the universe only seemed to extend to India, the USA and Tanzania. This was good by me, and while I wasn't ready to eat a burger that looked like it was from a high school cafeteria, I was interested in some curry so I tought "let's try here".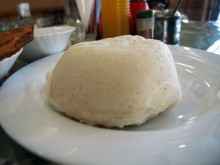 I ordered the Chicken Curry with Ugali, which requires a bit of explanation. Ugali is a dish unique to Africa that is basically a ball of cornmeal dough. It doesn't have much flavor, but always seems to come with some sort of sauce to make it not taste like starchy air. I figured it would be a good conduit for curry, but I quickly found this was unlike curry I was used to eating. It was much more viscous and didn't quite have the spicy kick I was used to. Nonetheless, the chicken that had been cooked in it tasted pretty good even if it did little to enhance the ugali.
While Universal Classic Restaurant didn't reach its lofty goals, it was an undoubtedly interesting foray into the food of Arusha as well as being a good second look at how Tanzania does Indian food.