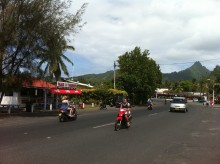 One amazing thing about Rarotonga in the Cook Islands is the lack of chains. No Starbucks. No Subway. No McDonald's. It's enough to make a coffee-loving, fast food-devouring American feel dizzy. Fortunately, I don't care for coffee and this also doesn't mean Rarotonga doesn't have fast food. Yes, even this slow-paced island that runs on even slower-paced "island time" is not without its fast food, but this fast food is local.
Our awesome bartender/sample-giver from the Cooks Lager Brewery, Wendy, recommended Palace Takeaways. Situated on the outskirts of Avarua, this little shack served burgers, fish and chips and not much else. Wendy told us they were the best burgers in town, so I had to find out for myself.
The burger options hovered between the 5-10 New Zealand Dollar range, which isn't exactly cheap, but I suppose it isn't too expensive either considering all the meat was imported from New Zealand. After a few moments of consideration, I ordered a cheeseburger with bacon and egg on top. Tiring of eating around vegetables, I finally gave in to my basest unvegan instincts and ordered without cole slaw, which came on all their burgers for some reason. Yes, I know it goes against my travel principles to order this was, but cole slaw is a bitch. I ordered a side of chips to join my burger and for those of you who don't speak British, chips is just fancy word for fries.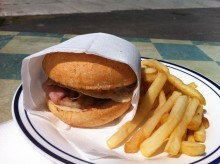 Despite being called Palace Takeaways, there were some picnic tables around the shack with a view of Avatiu Harbor and we snagged one to eat at. The burger looked pretty snazzy for a fast food burger, with a great-looking bun and a whole heap of bacon. Unfortunately, the Maoris of Rarotonga seem to like their bacon streaky and this just isn't my thing, so I spent a good portion of my eating time separating out the bacon that seemed edible to me. Sorry, I just like my bacon crisp. The egg was tasty, as always, but unlike the bacon was not runny at all. The white cheddar cheese was a great touch and then there was the heart and soul of the burger – the beef. While this beef was of a pretty good quality, it was a surprisingly small patty and I was surprised to find it a bit dry, especially considering that they had no qualms with greasy, fatty food. Nonetheless, it was a burger I could certainly get used to.
Finally, the chips were pretty awesome. Nicely fried without being well-done and well-salted. They made a great companion to the burger and offered a nice, salty alternative to the streaky bacon.
With time and a few more visits, I'm sure I could shape Palace Takeaways into a delicious burger joint to match my tastes. The locals sure love it and after one visit I can definitely see why.