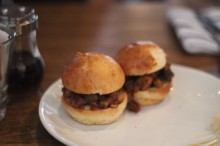 Growing up in West Bloomfield, Michigan was kind of like growing up in a bubble. When we did eat out, it was rarely beyond a two mile radius from home. Often, it feels like I missed out on a lot of food, but then I remember that I would have eaten a grilled cheese no matter where we went, so there was no real point in venturing out. When I go back home, though, I try to venture out just as much as I like to eat away at nostalgia. That's how I ended up at Local Kitchen for Brunch in Ferndale, far outside the bubble.
Part of the draw of Local Kitchen was that they seemed to cater to a bunch of eating issues, and since my family has a bunch of those and we were all going out for my birthday (thanks wifey!), it seemed like a good choice. Unfortunately, where they catered to all of those maladies, they lacked in unvegan options. There were a few, but it was certainly a short list. To try a couple, I split my food with my dad, whose taste in terms of vegetables closely echoes my own. We ordered the BBQ Beef Brisket Sliders and the Burger.
The "sliders" (a BS term, see previous review for real sliders) were filled with local cheese whiz and pickled slaw, which we ditched. They turned out decently enough but certainly didn't wow me in any way. The buns were too big for the meat and the flavor just wasn't very compelling. Plus, despite the fact that I wasn't paying, $8.50 seemed like a hefty price.
The burger was a bit better. Made with a house grind, it came topped with lettuce, tomato, special sauce, and cheese, all on a challah bun. It also came with a pickle and and chips on the side. We ordered without the pickle, but kept the lettuce because my dad would eat it and I could easily peel it off. As for the pickle, we allowed that as well because the women in my family wanted it. They're clearly crazy. The burger was pretty tasty and cooked pretty well. There was a nice meat-bun ratio and truly little to complain about aside from the fact that it didn't stand out to me in any way.
Ultimately, I think Local Kitchen is a safe restaurant. The food wasn't quite disappointing, but it wasn't anything special either. Perhaps if their Mac & Cheese had been available on their brunch menu, I would be singing a different tune, but it wasn't and this is the only tune I can sing.