If you could have one final meal in LA that truly represents the city, what would you choose? Umami Burger? Korean BBQ? Some sort of Asian fusion? Anything with avocado in it? Seeing as I had eaten Umami the night before, for me it was a taco truck. You see, taco trucks just might represent LA better than any other food purveyor. Their mobility is all-important in a city that relies so much on cars. Their Mexican dishes feel perfectly at home in a place that was once Mexico and is chock-full of Mexican heritage. And their relatively low barrier to entry provides a great opportunity in a city that brings new opportunists in every day. For my last meal in LA, I chose Leo's Taco Truck.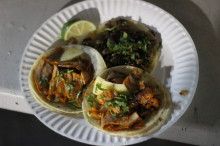 Leo's is not like your ordinary taco trucks. Perched on the corner of Venice and La Brea, Leo's specialty is tacos al pastor and they bring their rotating spool of Middle-Eastern/Mexican pork out of the truck to show off to passers-by. Sure, they serve other meats and things other than tacos, but the specialty is the al pastor and the specialty is pretty damn amazing. Each taco only costs $1 and the only thing included with each al pastor taco is a little bit of pineapple sliced from atop the spool and artfully tossed into the awaiting taco.I added a carne asada taco as well, just to have something to test against.
Next to the truck was a little stand with tubs of salsas, cilantro and anything else one might want on a taco. I loaded up on some lime, cilantro, avocado salsa and red salsa to add to my tacos and I'm not sure I have ever experienced such amazing value for my money, at least in the US.
Leo's Taco Truck is a true gem of Los Angeles that should not be missed. It was a fitting final meal for me in LA and though I expect to return some day, I can rest easy knowing that I did not let Leo's slip away from me.