There's little not to love about Tex-Mex, but it's also hard to distinguish the difference between Mexican food that happens to be served in Texas and Tex-Mex. I have a theory that queso is the difference. Sure, queso literally means cheese in Spanish, but in Tex-Mex it means melty cheesy sauce. Torchy's Tacos (originally from Austin) in San Antonio had some attractive queso on its menu, but I was also eager to eat its namesake tacos.
So let's just start by saying the queso came two ways – topped with Texas chorizo or topped with some guac, cotija and diablo sauce. They both had green chiles in them as well, so we opted to try both. Needless to say, they were both spectacular, but the chorizo won out by the very merit of having chorizo. I should also add their straight guac was pretty stellar because it knew to avoid tomatoes and onions, but when queso is on the table guac takes a backseat.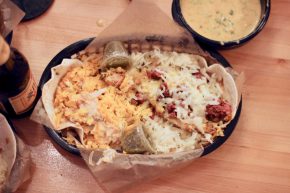 As for my tacos, I went with a breakfast taco called The Wrangler (scrambled eggs, potatoes, smoked beef brisket, jack cheese and tomatillo sauce), The Democrat (shredded beef barbacoa, avocado, cotija, cilantro, onions, lime and tomatillo sauce) and The Tipsy Chick (chicken fajita, spinach, grilled corn, green chiles, cheddar, chipotle sauce and a side of bacon bourbon marmalade). I skipped the onions and spinach on the latter two, respectively.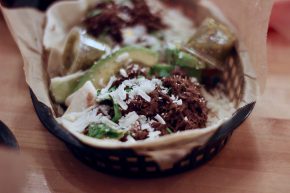 I should also say that I just listed them above in order from worst to best. It's weird, right? Because you might have expected the opposite, but it turns out that while all of them were delicious, The Wrangler may have had a little too much egg, The Democrat just didn't have anything that made it special (read into that as you will) and The Tipsy Chick just blew me away.
I recommend Torchy's Tacos for anyone hitting up Austin or San Antonio or anywhere else they might be now. It was easily the best Mex I had in Tex and potentially set a new bar for queso expectations.