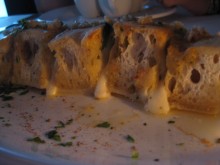 Tuckered out after a day of rides, standing in line and more rides, the girlfriend and I headed to Downtown Disney for some fine dining. We ended up at Ralph Brennan's Jazz Kitchen, a New Orleans-style restaurant. The menu was pretty pricey, even for Downtown Disney, but with my 20% discount, we figured the meal wasn't outside our price range. We took a seat in their upper level and decided what to order. When the waiter came, I was struggling a bit.
There were some delicious-looking entrees, but each one had a vegetable with it that was not welcome on my plate. The Grilled Medallions of Beef came with bacon and pecan-crusted green beans, while the Black and Blue Filet Mignon had butter-poached asparagus. Leaning more towards the medallions because at least their veggies had bacon, I decided to ask the waiter about substituting. Flashing a Disney smile, he told me I could substitute any of the sides. This pushed me over to the filet ($33), and I substituted the nasty greens for some andouille grits. The filet also came with blue cheese dauphinoise potatoes and was topped with a blueberry-Merlot demi glace. This all seemed to add up to tastiness.
Although I was content with just the filet, the waiter made a quick pitch for their Southern Garlic Cheese Bread ($8) and made it sound so good we had to order it. The bread came out relatively quick and looked beautiful. Cheese was oozing from the inside and I snagged a piece as quickly as I could. It tasted good, but something was missing. The waiter obviously noticed and pointed out the lemon on the plate. He told us it was strange, but effective, so I gave it a shot. And he was right. The lemon added a delicious new dimension to the bread that really made the order worthwhile.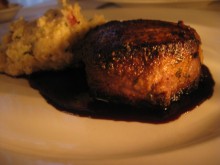 Then came my filet and it looked beautiful. Sitting in a pool of blueberry whatever glaze, I sliced off a piece and found it was cooked perfect. The beef melted in my mouth and the blueberry stuff enhanced the flavor rather than masked it. After a few delicious bites, I took a break from the steak and tried out the sides. The grits turned out to be a delicious companion and also tasted great in the blueberry sauce. I just love that mix of sweet and salty. The potatoes were also an awesome part of the meal. Stacked neatly and sliced into perfect layers, the blue cheese made these potatoes very interesting. I'm more partial to regular old au gratin potatoes, but mixing in some blue cheese wasn't such a bad thing.
Overall, I was a very impressed unvegan. This was definitely a restaurant that could stand alone outside of Disney. Then it came time to pay and I handed over my badge to get my discount. The bill with the discount applied came back and left us confused. I asked the waiter if the tip had been included and he adamantly stated it wasn't, then he realized why I was asking. Only 10% had been discounted and apparently that was the policy of the Jazz Kitchen. Somehow they set themselves up a on a pedestal above the rest of Disneyland and didn't offer the full 20% discount. This left a bad taste in my mouth, but fortunately the meal was good enough that the taste didn't linger. I probably won't be back to Jazz Kitchen out of principle, but it is certainly worth trying if you aren't expecting to get 20% off. And even without any discount, the food is pretty worth it.