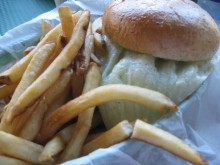 Picture a huge grizzly bear wandering the forest and willing to take down anything that stands in the way of its food. Imagine that it stumbles upon a sleeping family out camping for the night. Each of them has bits of food in their tents and the bear can smell it. It tears apart the tents in search of the food and the family barely makes it out alive, carrying battle scars with them. That's what I think of when I picture a hungry bear, but the folks at Disney probably weren't thinking about that when they named the Hungry Bear Restaurant. Located in the heart of Critter Country in Disneyland, there was nothing but happiness and little chance of being mauled by a grizzly. We walked the long ramp up to the restaurant to see what the friendly Hungry Bear could offer us.
Although Disneyland has specialty restaurants that serve Italian, French, Mexican and more, Hungry Bear was good old fashioned American food. The type I imagine Walt would have loved. Feeling like a hungry bear myself, I spotted the bacon cheeseburger and never looked back. It came with tomato and lettuce on it, but if I wanted it without, I would have had to wait 10 minutes. My hunger was more powerful than my hatred for vegetables, so I took mine straight up. It cost $9.50, which is a bit overpriced for a burger, but with a little 20% discount, the burger fell into a very reasonable range.
I grabbed the burger at the counter and brought it to my table to undress. After removing the unwanted vegetables, I discovered a bountiful layer of bacon just itching to be devoured by yours truly. I splashed some BBQ sauce on and dug in. Surprisingly, the burger wasn't bad at all. They had found a pretty good bun, the bacon was tasty and the patty itself wasn't bad either. It wasn't cooked to order, so I couldn't get it cooked medium, but it also wasn't dry.
Now for the bad part. If I wasn't at Disneyland and in a sort of captive setting, I might have been a bit disappointed. But considering Disneyland does have a captive audience that is going to need food no matter what they serve, they could have created a burger far worse than this.