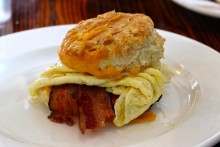 When my cousin suggested grabbing breakfast at Satsuma in Uptown New Orleans, I was a little surprised. You see, "satsuma" is a Japanese word and it definitely doesn't mean breakfast. But even if it did, Japan isn't exactly known for great morning food (unless you like fermented beans). As it turned out, there was nothing Japanese about Satsuma at all, and it turned out to be a breakfast/brunch place that also served some fancy smoothies.
While a lot of the food inexplicably had vegetables, I found something that didn't and still looked light enough that I would be ready for a hearty lunch. It was the Bacon, Egg & Cheese Sandwich and it came with all of the above served on a biscuit. Unfortunately the egg could only be served scrambled, to which I was kind of like, "What the fuck, I like over easy eggs." But whatever.
Eventually, the sandwich came out and was, well, exactly what it should be. The bacon was Nueske's, so it was obviously awesome and cooked to a good crisp. The egg was fine for a scrambled egg, and the cheddar and biscuit were just plain normal. It wasn't a bad sandwich by any means, but I couldn't help feeling that Satsuma wasn't trying too hard on this thing. For someone hoping to get some of New Orleans's finest cuisine, Satsuma didn't exactly stack up. On the other hand, if I were a local just trying to grab something cheap and reliable, Satsuma might have been just what I was looking for.