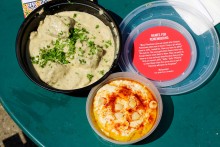 EDIT: As Conflict Kitchen is always changing, it is no longer Palestinian, but it may be again some day.
Conflict Kitchen in Oakland has a pretty cool concept: shine some light on countries the US has conflict with by dishing out food from that country. The menu changes here and there and in the past has featured the likes of Venezuela and North Korea, but the current version has caused more controversy than any previous iterations. Of course, this might have been expected when you start serving Palestinian food.
Weirdly, there was even a death threat that caused Conflict Kitchen to actually shut down for a short time. Yet, if a place called Conflict Kitchen doesn't cause controversy at some point, it's probably not doing things right. And politics aside, I love Middle-Eastern food and know that the Palestinian Territories reside in that region of the world.
I ordered some Kofta Bi Tahini, which is lamb and herb meatballs with thinly-sliced potatoes in a tahini sauce. I also ordered some hummus that is made with olive oil straight from the West Bank. Both of these came with something called Arabic Bread, which is really just a fancy term for pita.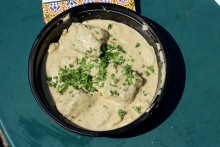 The kofta was more like meat cubes than meatballs, but they were definitely tasty – being both moist and flavorful. Eating them in a tahini sauce was new to me, but it was a welcome change of flavor that really made the mix of flavors unique. The potatoes were a nice touch too, as they just hung out and absorbed all the flavor from the sauce.
As for the hummus, it was exactly what a fresh hummus should be, except that there were a few un-mashed chickpeas that I didn't really appreciate.
It ended up being a great meal, and while the Palestinian food was pretty similar to other Middle-Eastern food, it is certainly a meal worth having. Whichever side of the conflict you are on, a little extra information couple with the universal language of food never hurt anyone.