Straddling the campuses of Carnegie Mellon and Pitt, Craig Street is where ambitious students can often be found eating lunch or dinner between classes. On that street is a little Middle Eastern restaurant called Ali Baba, which I found myself eating at based on a high recommendation. The recommendation was mostly based on something that have called Kibbee Nayyee, which is a raw lamb dish that is apparently pretty hard to find.
Hard to find or not, I think you have to be in a pretty special mood to crave raw lamb, so I ignored the recommendation and went with hummus as an appetizer and a Chicken Pita Pocket. This pocket comes filled with spiced chicken, lettuce, tomatoes and their special yogurt sauce. I ordered mine without the lettuce and tomatoes and was eager to see what I would get.
But first came the hummus, which was pretty tasty. It was thick and creamy, with just the right amount of paprika and oil.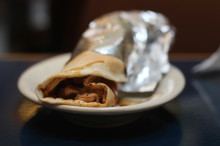 Then came the Chicken Pita Pocket, which somewhat resembled schwarma, but wasn't quite there. I was definitely a fan of the chicken seasoning, but the chicken itself was kind of weirdly soggy. Then there was the yogurt sauce, which tasted pretty good, but the pita could have used more of it.
Without having eaten their Kibbee Nayyee, Ali Baba seemed to me just an ordinary Middle Eastern restaurant. It's not bad by any means, but also not a place I would rush to return to either.