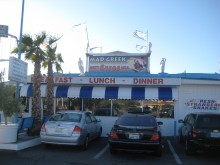 My usual drive to Las Vegas involves getting there as fast as possible to gamble and returning as fast as possible to cry into my pillowcase after losing copious amounts of money. This trip, however, was a bit different. Rather than a rush back home, we took our time and stopped for lunch.
Anyone who has made the drive between Los Angeles and Las Vegas knows of the Mad Greek Cafe. Billboards seem to advertise the "Best Gyro" every few miles, so for our little road trip lunch, we thought a trip to Baker, California and a stop at the Mad Greek Cafe would be worth our while.
Even though it was well-past 2:00, the place was packed. A menu on the wall had a surprisingly short list of Greek food and was instead populated with more American food like hamburgers. One of the Greek items was the gyro, and since this was supposed to be the best gyro, like ever, I had to try it for myself. The menu said it came with tomatoes and onions, but I ordered mine without. It also came with rice and tzatziki sauce. I placed my order and took a seat to wait.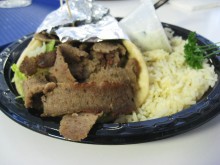 When my gyro arrived, I was both stunned and disgusted. Overflowing from beneath the gyro meat seemed to be thousands of little lettuce leaves. I would have thought the best gyro in the USA would have at least warned me what was inside so I could order without it. Instead I was left to dissect the gyro and slowly remove the nefarious leaves. I opened up the little container of tzatziki sauce and was sad to find that it was dominated by cucumbers. Yes, I know tzatziki is a cucumber sauce, but usually I can get around the chunks of cucumber. This was not the case at the Mad Greek Cafe. Instead, I was putting paltry amounts of tzatziki on my gyros.
Once the sandwich was edible, I began to eat. It wasn't a bad sandwich, but somehow the glam of being the best gyro in the USA faded away as I exerted myself to remove the lettuce. The meat was pretty good, and worth stopping for if you get hungry on the way to or from Vegas, but certainly not worth visiting on any sort of special trip.