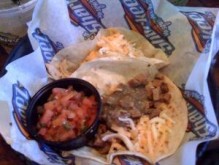 Today the taco of choice was Sharkeez in Manhattan Beach. Sharkeez is better-known as a late-night college-style bar, but on Tuesdays they serve up a variety of tacos, from Mahi to carnitas to lobster. Being my first time, I ordered a "Maui" style mesquite chicken and a tri-tip steak. The cashier told me they would come with Pico de Gallo** on the side, and inside would just be the meat, cheese and sauce. This sounded great to me, so I sat down to wait for my food. Sharkeez has a good all-you-can eat chips and salsa bar, which is nice to munch on when you're wating for more food, so I grabbed a trayful.
As I waited for my tacos, I noticed that some of my friends were getting their tacos and they all had a frightening green substance in them. Lettuce! As in let-us spoil your perfectly good taco. Oh no! Taco lettuce is one of the most difficult substances to remove from food. First off, it's shredded, so it's not like pulling off a whole leaf of lettuce like in a sandwich. Second, it always gets mixed in with the shredded cheese, so if you manage to take out all the lettuce you are guaranteed to lose a lot of cheese. I had to stop the cooks before they made a terrible mistake. I quickly jumped up hoping to catch the waiter and ask him to hold the lettuce, but I was too late, he was holding my tacos.
I explained the problem and he brought me back to the kitchen as he spoke to the cooks. The cooks glared at me, and I felt like they were blaming me for having to make two new tacos. Little did they know it was their fault, for not putting a stop to the brutal persecution of lettuce within tacos. They were the first line of defense and they failed.
They quickly made me a new batch of tacos and I brought them back to my table. After all hat, they ended up being quite good, especially with a margarita. I'd recommend Sharkeez for a cheap treat on Tuesdays, but just make sure you know the ingredients that you may be getting into.
*I apologize for the poor quality of the photo, but I left my camera at home and was forced to use my friend's iPhone.
**You can find my rant on Pico de Gallo here.