There's nothing worse than walking into a sandwich shop and discovering recycled ideas and sandwiches less inspiring than the local Subway. Okay, that might not be the worst thing, but it's moderately terrible. Walking into Mendocino Farms, however, is an altogether different experience. Rather than featuring droll, overused sandwiches the amount of delicious-looking sandwiches is almost overwhelming. And I mean that in the best way.
Yet, while the creative juices were certainly flowing at Mendocino Farms, the place did fall victim to one of the other problems often found at sandwich shops — nearly every sandwich had some sort of vegetable component. Ultimately, I had to choose between two sandwiches: Spicy Chipotle Turkey Meatballs or Prosciutto & Roasted Chicken. After a chat with the order-taking lady, I opted for the turkey meatballs simply because they were seasonal and I could always come back for the other. In addition to the meatballs, the sandwich came with a chipotle marinara, chimichurri, goat cheese from Drake Family Farm (which may or may not be local) and shredded lettuce on a soft roll. Of course, I ordered without the lettuce and couldn't wait to see how it turned out.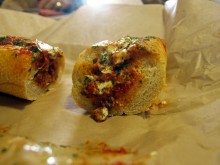 The result was absolutely beautiful in looks and equally delicious. To say I had never eaten such a great meatball sub would be a severe understatement. This sandwich had so much flavor and varying textures that every bite was awesome. The turkey may as well have been beef because it tasted that good. I would have liked just a little more kick in the chipotle marinara, but that is a minor complaint in comparison to how good the sandwich was.
My buddy got the "Blue Buffalo, Not a Blue Cow," which was Mendocino's take on the buffalo chicken sandwich and I got the chance to taste that as well. It was similarly weighed down by its use of vegetables, but otherwise was pretty delicious. Yet, vegetables or not, I'm glad I didn't order it. And not because it wasn't delicious, but because it didn't completely blow away all other buffalo chicken sandwiches like mine did to meatball sandwiches.
Because of all the great selections at Mendocino Farms, I am eager to get back and try something new out. I only wish they could come out with a perfectly unvegan sandwich that wouldn't require any modification on my part.