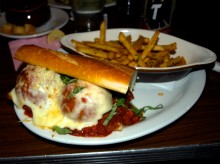 The 24-hour restaurant is a fascinating creature. Quite often, it's a place that couldn't quite exist if it were to function only at normal business hours, instead preying on the tired, the drunk and the early risers. To these people, any food is good food, which is why the food is often subpar. It takes a particularly ballsy restaurant to open itself all day and make an attempt at good, unique food, and that's where kitchen24 comes in.
kitchen24 makes itself out to be kind of like a diner, but is more Hollywood than diner. There's a bar in the middle with creative cocktails and beers ranging from PBR to Arrogant Bastard, and an extensive menu detailing more unique offerings than you would find in a diner.
I decided to go with the Big Baller, their twist on a meatball sub. This thing was filled with gigantic meatballs, marinara, provolone, parmesan and fresh basil, with a garlic toasted baguette instead of an average roll. It also came with a side of chips, fries, slaw or potato salad. Per usual, I went with fries. The result was a pretty awesome sandwich. Unfortunately, I couldn't quite eat it like a sandwich, due to its massive balls. I took to it with a fork and knife and went to town until I could pick it up, soggy bottom and all. It was definitely better than I had expected at a 24-hour joint and at $8.95 was cheaper than expected at a Hollywood joint.
The only real complaint I have is the service. I'm not sure if they work their staff on 24-hour shifts, but this place sure took a while. I'll give the waiters credit for being really damn friendly, but slow service only really works for the blackout drunks showing up at 3 am who forgot whether or not they ordered. Fortunately, the food was good enough for me to leave knowing it was worth the wait.