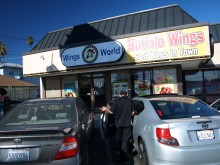 Just about every restaurant claims to be the best at something, but they typically have to have a track record before making such claims. That's why I was pretty surprised when I drove by Venice and saw a brand new sign claiming the "Best Wings in Town" and an equally new, but slightly smaller sign that said Wings World. I decided the place was worth a try, if only laugh at the outrageous claims of a new restaurant.
I walked in with a buddy of mine for a post-tennis feast and found the place to feature a variety of sandwiches as well as wings. There wasn't much to the setup, but the wings sure looked delicious and came in a surprising amount of flavors for a small mom and pop shop like this. I ordered the 10 Wing Combo, which came with fries and a drink. Instead of just one sauce, I opted for both Hot and Lemon Pepper after reading a couple of online reviews saying they were the shiznit. Those same reviews said Wings World wasn't exactly a new place, but had previously been called Deli World. This not only explained the sandwiches, but the "Best Wings" claims, because the deli had the wings as well.
But back to the wings. Despite falling into the old trap of including celery, they were actually pretty awesome. The hot came in at a nice spice level that kicked my taste buds in the face while maintaining delicious buffalo flavor. The Lemon Pepper was a bit harder for me to judge, not because my tongue was singed, but because I'm simply not a lemon pepper guy. I like my wings hot and while these were surely quite tasty, I have no frame of reference. They both went well with the blue cheese dressing.
Perhaps most importantly, though, the wings themselves were hefty pieces of meat compared to some I've had. The fries were your basic krinkle cut and got the job done as a side.
I'd definitely choose Wings World again, especially over a place like Wing Stop. The people running the place were friendly as hell and I felt like that was reflected in the quality wings they pumped out. I guess they can keep that "Best Wings in Town" sign up. For now.