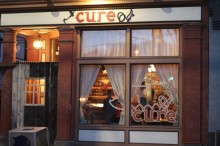 Pittsburgh has surprised me in its delicious offerings, ranging simple to upscale. Nonetheless, there is no denying that regular American food reigns supreme in this city even when it is all dolled up. Cure, though, is a bit of a different story. Located in Lawrenceville, it is helmed by 2014 James Beard nominee Justin Severino and is an unvegan paradise. Just be aware that when you come to this paradise, there is a price tag, but it is certainly worth it.
The menu at Cure is pretty limited, although it changes every week to keep customers coming back for more. You can check out the menu from my visit here and note the rare appearance of vegetables. We kicked things off with their smaller Salumi plate, which featured ciccioli, mortadella, duck speck, toscana and lardo accompanied by a bunch of random shit to eat it with. I assume it is this salumi plate and the even larger one that inspired the name of the restaurant, and with good reason. I quickly lost track of what I was eating, but it didn't matter because it all gave me a happy belly.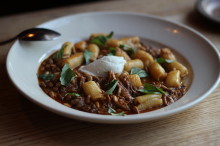 From there, the four of us decided to split up four dishes to taste, so if you notice any vegetables please rest easy knowing that they didn't reach my lips. Thus we began with Sugo, a dish containing goat cheese cavatelli, lobster, veal neck, pig's heart, San Marzano tomato, basil and pine nuts. I was unable to locate any tomato or lobster, unless they had made their way into sauce form, but was nonetheless impressed with this dish. I'm a sucker for goat cheese and everything in this just tasted perfectly balanced.
Next up was the Meyer Ranch Hanger Steak, which came topped with some random beet-like rings and a large leafy green item, along with a horseradish cheddar sauce and something mustardy. It was cooked to a distinctly perfect medium-rare and sliced into easily splittable pieces. As expected, this was delicious, if not the most interesting thing on the menu. No unpronounceable words? No animal organs? Alas, despite these missing things Cure proved it could nail classic eats as well.
We also ordered the Gluttony, a squab breast, duck confit, pork belly, toasted oats, hazelnut, rhubarb, lovage, and some braised leek and sour huckleberry sauce. In case you're wondering, yes squab is pigeon and no, lovage is not what you do with your significant other at night. All these combined came out to be a fascinating dish and trip through some unique meat and preparation. Gluttony is definitely the kind of dish that is best eaten alone because each item is just so unique and a little sample didn't seem to quite do them justice. Nonetheless, I can officially say I've eaten the rat of the sky.
Finally we had the Cedar Plank Copper River King Salmon and Mussels. This mouthful of a dish was served with melted napa cabbage, oil cured honey mushrooms, East End Brewing Monkey Boy, creme fraiche and dill. East End Brewing Monkey Boy, in this case, is a beer and not an actual monkey, but the idea of eating monkey at a place that serves pigeon really isn't that far-fetched. I'm guessing this is what made the fish look like it was served on sea foam. I only snagged a quick bite of the salmon and can say it tasted pretty good coming from someone who does his best to avoid the lesser meats (fish) of the world.
By the end, there was no room left for dessert, which is probably a good thing. I was incredibly satisfied by the meal, but having tried so many things, I will definitely wait until there is a drastic change to the menu before paying another visit. If I had the choice of one dish again, though, I would hit that Sugo. Something about it just hit me in all the right places. Also, at some point I need to go for this.