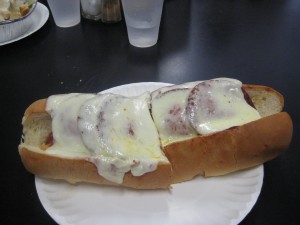 Conveniently located on Main Street in sunny downtown El Segundo is The Original Rinaldi's Italian Deli. From the outside, you see that Rinaldi's is a no-frills, old school deli.
Inside it's no different, with plastic chairs and seemingly foldable tables. The menu on the wall has enough unvegan delicacies to delight even the most casual carnivore. Steak, turkey, bacon, sausage and more adorn the various sandwich descriptions, making it hard to decide the appropriate meat for the moment. As soon as I saw the Fatboy, though, I knew it had to be mine. The ingredients were sausage, beef meatballs, pepperoni, marinara sauce and (provolone) cheese. I ordered the 10″ rather than the mildly girlish 6″.
Once I ordered, there was a bit of a wait, and I could hardly contain my excitement for the meaty sandwich. When it did arrive, it looked the perfect part. Light on marinara and huge on meats. The pepperonis were easily the largest I have ever seen and would have taken a few bites to get through had I been eating them on their own. I took my first (difficult) bite and my mouth was filled with happiness. I say difficult because the sandwich was so packed with meat, I had to take three bites just to get from the top to the bottom.
By the time I was finished, I was one happy unvegan. The combination of meats were enough to make my palette jump for joy and the fact that they never even considered tainting my sandwich with vegetables filled my life with bliss.