For a long, long time I have heard of the legend of Vincent's Pizza Park. It's out in Forest Hills, so not an area that's easy to get to when you're in the bubble of Shadyside. Yet, with a little free time available, I made it out with a few guys to get a famed Vinnie Pie. It wasn't too crowded when we got in, so we took a quick look at the menu, ordered a pitcher of Yuengling and perused the pies.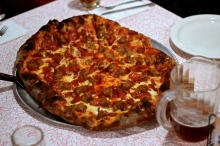 One thing that was great about the place was that there was only pizza, drinks and salad (with or without cheese) on the menu. We ordered a large (which is ordinarily an extra large) with pepperoni and sausage and watched through the window as it was haphazardly thrown together with unparalleled skill. When it arrived, it was a beautiful sight to behold.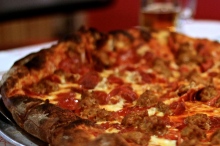 In the middle, a pool of grease formed that set the foundation for great things to come. The toppings were copious, but strewn about all over the place in the best way possible. The crust was uneven — thick, thin, long, short and everything in-between. In short, it was everything a pizza should be. If only it was a little bit easier to eat…because I never quite feel good about using a fork and knife to eat pizza. But I do it for Chicago deep dish, so Vincent's can handle it too.
It's not easy to get to Forest Hills, but it is definitely worth the journey. The Vinnie Pie is a must for anyone in Pittsburgh. I'm not going to say it's the best pizza in the world like a buddy of mine would, but in just over a year in Pittsburgh it's the best I've had.